Shots will be fired on Whiskey Rebellion Day, Sunday, July 16.
The Oliver Miller Homestead will show the family's participation in this historic event through narration and three skits which begin at 2:30 PM.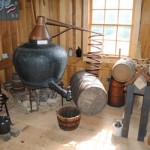 The whiskey making process will be explained in the barn near the Miller family's whiskey still.   Hours are from 1:30 to 4:30 PM with the last admission at 4:00 PM.  Admission is $2 per person.