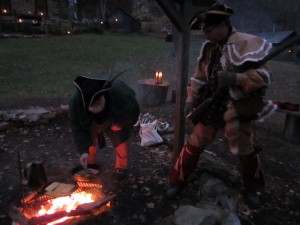 November 6, 2o16  (4:30 to 7:30 PM) is your only chance to see the grounds and buildings of the Oliver Miller Homestead lit by candlelight and cressets during AN EVENING at MANSFIELD.  Warm cider and 18th century type cookies will be available for sale in the barn.
---
You are invited to step back in time to November of 1794.  Alexander Hamilton and U.S. troops are in the area, eager to arrest anyone who is suspected of being involved in the recent unrest and violence due to the hated whiskey tax.  Miller family members and neighbors have gathered at the home of James Miller (Mansfield) to discuss the issues of the day.  
Their brother, William, who angrily refused to accept a court summons in July, was present at both incidents of violence at General Neville's and the march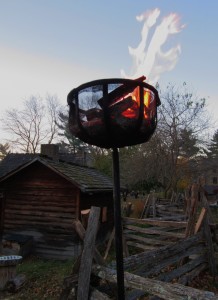 on Pittsburgh.  He has already left for Kentucky with his wife and children. Alexander and Jean Miller are still grieving the loss of their son who was shot at Neville's plantation.  The remaining Miller brothers; Alexander, John, Thomas, and James and their families are now wondering what their fates will be.
Listen in to the conversations of the men gathered around the fire and those of the women in the house as you spend your evening at Mansfield.      
To view a short video about this event, click  AN EVENING at MANSFIELD  .
---
Admission is $2 per person for this special event.