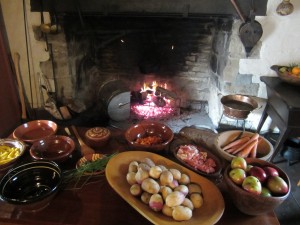 On SUNDAY, NOVEMBER 22, from 1:30 to 4:30 PM, an 18th century Thanksgiving will be re-created at the Oliver Miller Homestead.  
While Thanksgiving was not an official national holiday until it was declared so by President Lincoln, many people celebrated a day of thanksgiving on their own or on a day set by the governor.  We will imagine that the Miller family and their neighbors have gathered to give thanks for good health and a bountiful harvest.  A feast of sausage and apples, clapshot, maple-minted carrots, baked squash and apples, and hopefully, some type of fowl for the reflector oven, will be prepared at the open hearth.  More food will also be prepared outdoors and cooked in the beehive bake oven.  And, of course, the Millers' "neighbors" will bring food to share.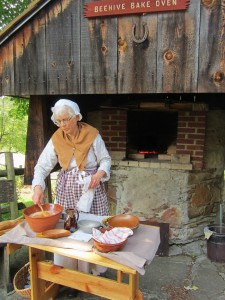 ---
A short Presbyterian worship service will take place at the Log House at 2:45 PM.  (The Millers were founding members of the Bethel Presbyterian Church.)
---
Please note that the food is for demonstration and display only – we can not feed the public. Fear not though – it will not be wasted but enjoyed by the volunteers after the OMH closes to the public!  Admission is $2 / person.