PUDDING DAY

When children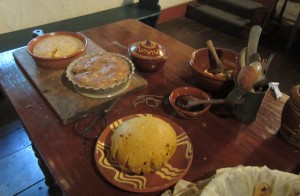 stepped into the Miller Homestead kitchen at our recent Children's Harvest Festival event, we asked them to name their favorite pudding.  The overwhelming favorite was chocolate.  Of course we looked a little confused and asked, "Chocolate pudding?"  We were making three different puddings that day in the 18th century manner – pumpkin pudding, corn pudding and bread pudding.
---
In the 18th century, if pudding was served, it often a substantial part of a meal. In The Art of Cookery Made Plain and Easy (revised edition, 1796) by Hannah Glasse, there are a number of pudding recipes.  Here are some of them: liver, Yorkshire, millet, flour, calf's foot, carrot, apricot, corn, barley, sage, beef, suet, orange, custard, transparent, chestnut, batter and bread.
---
Our pumpkin pudding was poured into a cloth, tied up and hung from an iron hook.  It boiled for three hours in a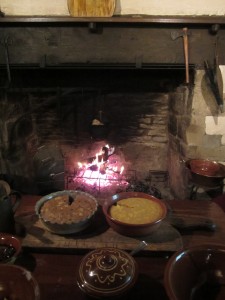 cast iron kettle hanging from the crane.  The bread pudding was poured into a stoneware baking dish and the corn pudding into redware.  Both were steam-baked in the cast iron bake-kettle (Dutch Oven) down on the hearth. At the end of the day, the docents sampled all the puddings.  So which one was our favorite? I believe it was a tie between the pumpkin and the bread.
---
For more on puddings click:  About Puddings & A Bread Pudding Recipe